As one project nears completion, it's always irresistible to ponder what to do next.
Like so many of you, my WANT to list is much longer than my EVER BE ABLE to list.
At this moment, I am debating between a chenille rug made from flannel
Starting my Be Dazzled, which means making sure I have everything on the supplies list
Paper Pieced "something" like this fun & bright lovely from Carol Doak's free patterns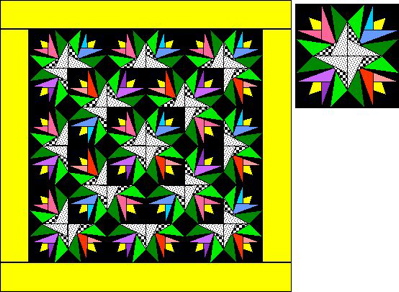 dive back into that wonderful scrap pile of mine
start playing with my cousin's snowman blocks/quilt (Cute wallpaper, huh?)
or quilt 1 of the 3 lap quilt tops begging my attention
Oh, & don't forget the batik quilt/UFO I started in 2009!
Now I am overwhelmed.  Think I will go flip pages of the latest AQS American Quilter magazine!