I am finally starting to make some progress on my Quiltville Orca Bay quilt.  No, it's not much, but pieces being cut is a definite commitment to the project!  (Check back tomorrow to see what has been keeping me so busy this week & last!)
I decided to use up a big piece of scrap for my Step 1 .  My neutral color is also going to be mostly natural muslin, because I have so many scraps.  So my step 1 is not going to be very scrappy, a little, but not much.  I am hoping this works out ok.
My step 2, however, will be pretty scrappy.  I was glad to have the GO! cutter to cut my foundation squares.  3 turns of the crank & that bit was finished!  I have my purple strips all pressed & at the ready.
So there is my progress on the first 2 steps of the mystery…and eeek, the next clue comes out tomorrow!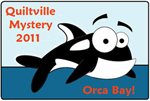 It's not to late to play along!  Pop over to Bonnie Hunter's blog (click here) and print the directions.  You won't be that far behind me!  Besides this is a project for you to use up your scraps.  Is there ever a deadline for that?