Yes, I am still woefully behind those who are keeping up with the Orca Bay Mystery, but I decided that I wanted to play, not race when I started.  So each Friday, I save the clues, think about the fabric I'll use for that part of the challenge & maybe get it cut.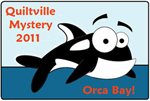 This Sunday, I actually stitched!  Since I adore string blocks, I skipped right to them.  I finished 60 out of the 72 I need.  I would have finished, but the Packers were on, and hey, a girl has to have priorities!  Update:  I finished off the blocks this morning.  woohoo!
Here's a sample of my strings
I broke down & ordered the 1.5" triangle die for my GO too, so step 3 is on hold at least until it comes in.
At least I feel like I am playing along in the mystery now with some finished blocks!